3 gEnErations, 1 Identity
IN THE HEART OF THE Massif de Saint-Thierry
Located in Merfy, in the heart of the Massif de Saint-thierry
Our family takes care of 6 hectares of vines spread over 3 sectors: the Massif de Saint-Thierry, the Montagne de Reims, and the Ardre Valley. Sandy soils, beautiful exposures, a great diversity regardfing the age of our vines, these details allow us to have grapes with different and complementary characters.
The methods and still evolving, but the know-how is still transmitted for 3 generations.
Our desire: to introduce you to the 3 main grape varieties
of Champagne: Chardonnay, Pinot Noir and Meunier. Our 6 Luc Mérat cuvées allow you to explore the characteristics of these wonderful varieties. As a single variety or as a blend, vintage or not, with aging in barrels or stainless steel vats, our wines are ideal for your moments of gastronomy or celebration…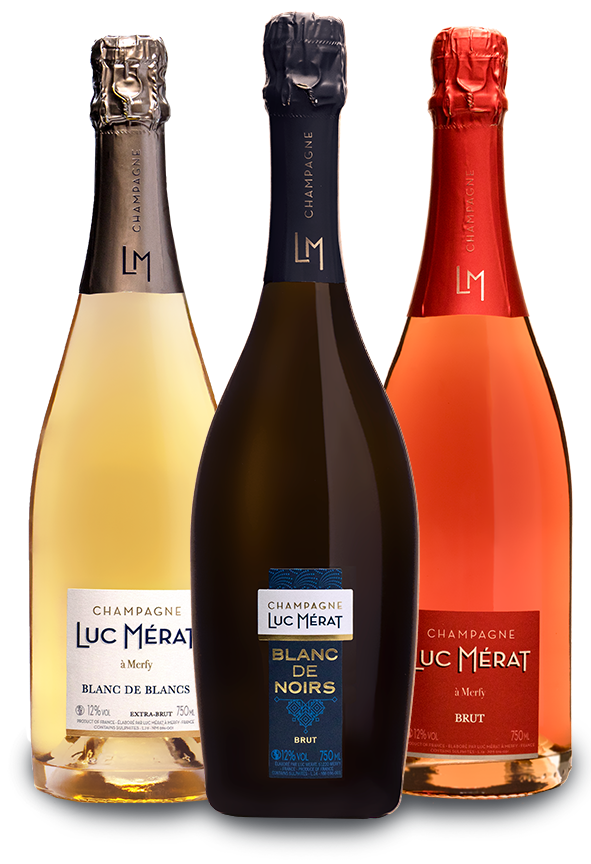 Our exploitation makes it possible to meet our own needs and not only. Thanks to our equipment, our desire is also to allow neighboring domain to emancipate themselves. An à la carte service that we continue to develop.

We are in fact capable of carrying out manual and mechanical work in your vineyard throughout the year (from pruning to harvesting) thanks to a wide range of services and our qualified team.
Are you looking for a quality partner to maintain your vines and/or create your own champagne? Contact us
EXPLOITATION VITICOLE & CHAMPAGNE LUC MERAT
11 Chemin des Couarres-la-Masse 51220 Merfy
champagne.lucmerat51@orange.fr
03 26 84 50 60